PROPOSING A TOAST: BECOME A GREAT TOASTMASTER
Proposing a toast: be an effective toaster and communicator: some free toasting lines courtesy of www.public-speaking.org
Toasting is not nearly as common as it once was. However, the polished public speaker should have a few short toasts ready to go if and when the occasion arises. Here are a few fun toasts and a few touching ones too:
Toasting for Birthdays:
To your birthday, glass held high. Glad it's you that's older not I.
Heres to you. No matter how old you are, you don't look it.
TOASTING FOR CHRISTMAS: XMAS TOASTS
'Twas the month after Christmas, and Santa had flit; Came there tidings in the mail, which read: Please remit.
Here's to the Holly with its bright red berry. Here's to Christmas, let's make it merry.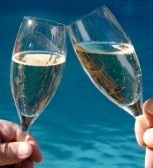 Proposing a toast: toasts for meals, friendship, banquet and health
PROPOSING A TOAST FOR MEALS, TO FRIENDSHIPS, BANQUET AND GOOD HEALTH
Toast for Meals:
Eat, drink and be merry, for tomorrow you diet.
A full belly, a heavy purse, and a light heart.
Toast to Friendship:
Here's to a friend who knows me well and likes me anyway.
May the friends of our youth be the companions of our old age.
Toast for Banquet speech ending:
Good day, good health, good cheer, good night!
Health Toast:
Here's to your health. You make age curious, time furious, and all of us envious


PROPOSING A TOAST: TOASTING FOR GOOD LUCK, A NEW YEAR, AND MARRIAGE
Toast for Luck:
As you slide down the banister of life, may the splinters never face the wrong way.
May your luck be like the capital of Ireland. Always Dublin.
Toast for the New Year:
May all our troubles in the coming year be as short as our New Year's resolutions.
In the year ahead may we treat our friends with kindness and our enemies with generosity.
Toast for Marriage:
Marriage is an institution, but who wants to live in an institution. Groucho Marx
May for 'better or worse' be far better than worse.
To close this section I would like to tell you that I feel like a loaf of bread. Wherever I go, they toast me.

Article courtesy of www.public-speaking.org

Proposing a toast: a free sample wedding speech

Humor is an important element when proposing a toast