FEAR OF PUBLIC SPEAKING: conquer fear, anxiety, shyness and stage fright
"FEAR OF PUBLIC SPEAKING"
"Our deepest fear is not that we are inadequate. Our deepest fear is that we are powerful beyond measure. It is our light not our darkness that frightens us. We ask ourselves, who am I to be brilliant, gorgeous, talented and fabulous?
Actually, who are you not to be ? You are a child of God. Your playing small doesn't serve the world. There's nothing enlightened about shrinking so that other people won't feel insecure around you. We were born to make manifest the glory of God that is within.
It's not just in some of us; it is in everyone. And as we let our own light shine, we unconsciously give other people permission to do the same.
As we are liberated from our own fear, our presence automatically liberates others." Marianne Williamson
Why do we have fear of public speaking?
Why do we feel fearful and anxious when faced with a public appearance/presentation
Fear of public speaking is what most people have experienced at least at some point in their lives. Generally, most of us have moments of fear and anxiety. It is a natural reaction to threat, and danger. In the same way, fear of public speaking is a natural reaction to the threat that is posed by a lot of attention, possible mistakes and questions that we may not be able to answer.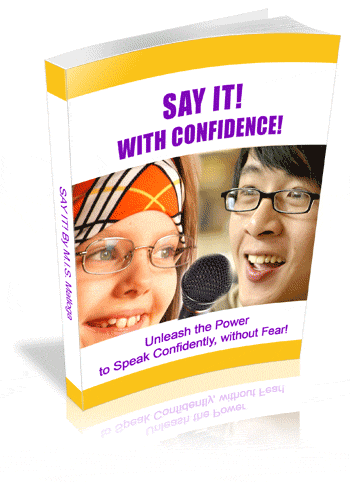 Address "The Root Cause" of Your Fear. E-book To Help Overcome OCD, Phobias/Fears, Panic Attacks, Depression And Fear Of Rejection, From An Ex-sufferers Point Of View. FACE YOUR FEARS!
Combat the fear of public speaking
Combat your fear of public speaking
"Worry and courage have a lot in common. Both are emotional states. Both are created in one's mind. Both have an influence in what we will or will not do. As infants, we are born with neither. Both will have a major impact on our character. This is where they differ: Worry limits us and causes much distress. Courage expands our abilities and gives us feelings of hope and empowerment.
Worry indicates the ability to project what might happen in the future. This shows that you can mentally create an emotional reaction based on what your brain focuses on. This same ability is how you can transform worry into courage." -Zelig Pliskin-
Try and get some courage instead of being fearful and nervous. How have you handled similar situations in the past? Draw from your own experiences; if they were not good, learn from them and commit to rectify those mistakes. Ask yourself: "how would I like to handle this situation and what is stopping me from handling it that way?"
Fear and/or worry are created in our own minds. We wonder what people would think of us if we do not do well and if we made mistakes.
When you are going to present, it is important to realise/recognise that your audience will/needs to learn something from you. They therefore want you to deliver a good presentation. Do not let this worry you. Instead, realise that your audience therefore would want the best out of your presentation, they want you to succeed. They are not there as enemies, mostly they are there as supporters and receptive learners. They are human and most if not all of them do experience some anxiety and fear prior to a public address themselves.
You can beat fear simply by being prepared for the presentation or the public speech/appearance. Know your audience, feel and look confident, know what the audience expects from you. Prepare well in advance and relax. Get rid of all the 'what ifs'. If you can't get rid of them, do something about them.
What is the worst that can happen really? Soon your public presentation will be over. Do you want to sit feeling defeated afterwards or do you want to feel good about yourself? Hope this article will/has helped you combat or at least manage your fear of public speaking.


EBOOK TO HELP YOU MANAGE YOUR FEAR OF PUBLIC SPEAKING

FEAR OF FUNERAL SPEAKING? EULOGY TIPS

WEDDING SPEECH: WEDDING SPEAKING TIPS

A GOOD MEMORY CAN MAKE PUBLIC SPEAKING EASIER

HOW TO BUILD A WEBSITE

START YOUR SPEECH WITH AN ICEBREAKER TO MINIMIZE TENSION

FOR MORE PUBLIC SPEAKING TIPS: Subscribe to our free monthly ezine - "Straight-Talk"